Jesus said, "I will not leave you as orphans; I will come for you." (John 14:18)

I've been preaching through Exodus for a bit now. We came to a text this last week that has become profoundly meaningful to me right now with some things going on in our life.

A quick story about how we ended up in Exodus. Several months ago, I was finishing up a series in Ephesians and began to pray, "Lord, where do you want us to go next? What do you want to say to your people next?" He took me to Exodus and said, "Here." And so here we are, working through the story of God's redemption of his people.

But what has become apparent to me is that, although he is speaking to his people through the book of Exodus, he has a lot to say to me as well. So this last week, we ended chapter 13. The people of Israel had just come up out of slavery and have begun their trek through the wilderness. And the interesting thing that I noticed right away (Exodus 13:17-18a) is that God took them the long way.

Why would he do that? I mean, haven't they been through enough? 430 years of slavery wasn't enough that now they have to take the long way?! What's up with that?

One of the things I had to see from this is that sometimes the long way is the only way.
Sometimes God has to take us the long way so that we learn to depend on him.

I said that to my congregation this last Sunday and it's only just now that he is showing me how very much this applies to me as well. See, my family and I are in the long way right now. It's been a really hard few years for us; failed church plants and jobs and pain and anger and all kinds of crap.

But I know that God is faithful. I don't always understand it or like it and I guess I'm not supposed to all the time. He's God and because he is, that means he gets to decide. He gets to decide what is best for me. He gets to decide what it is that we need to go through so that we can be made into the image of his Son. I have to keep reminding myself that Jesus took the long way also. He could have saved his people another way. He could have found another way to offer salvation. But he chose the long way of humility and service and pain.

There's a lesson there for me. Maybe for you too.

Maybe we need to realize that there's more to life than getting from point A to point B. Because what's the good if we get to point B but along the way we've lost our souls? We need to see and trust that God's wisdom is best and maybe, just maybe, we should trust him.

There are three things drawn from Exodus 13:17-22 that we saw this last Sunday in worship. I want to share them with you in hopes that someone who reads this needs to be encouraged like I do right now. Go get your Bible and read Exodus 13:17-22. As you do, I want you to notice three things.

1. God is always guiding his people. Even when the way is long or we don't understand, trust in his sovereign hand. He is always guiding his people.

2. God is always faithful to his people. Joseph believed the promises of God to his ancestor Abraham that one day his people would be free. So Joseph believed that God is faithful. Maybe you need some Joseph faith today. He who called you is faithful (1 Thessalonians 5:4). Hold on to his faithfulness.

3. God is always present with his people. The Israelites had a pillar of cloud and fire to know that God was always there. We have something even better. We have the Holy Spirit (John 14:16-17). Also, go back to the top of this article and read the verse at the top. God is always present with his people.

Jesus has come and has gone before us. He promised his Spirit would live in us and with us forever. He will not leave us alone.
​
You need to hold on to that on the long way to freedom.

Soli Deo Gloria!


​I've been dealing with some things recently. Maybe you've had this happen to you. Here's what "this" is:

I've been dealing with a lot of frustration and discontent over the last several months. Really over the last year. Recently I've begun to ask God to show me what was going on in my heart and why I was dealing with all this stuff.

You gotta be careful what you ask God for in prayer. When you ask Him to reveal to you what's going on in your heart, that may very well be the most painful thing you could ever ask for. When I asked God to show me what was going on in my heart. He was gracious enough in His love to do that.

And it has not been pretty. My heart is a dark chasm of idolatry and self. Actually, let me put it this way. I have made self my idol. It has taken on many forms but at the bottom of this deep darkness is self. My very identity has been taken over by self rather than Christ.

And then, of course, I also asked God to take away from me the things that were keeping me from a closer walk with Him.

Can I just tell you that you better be sure about that prayer before you pray it?! I think too often we pay lip service to being pruned and made into His image. Truth is, pruning usually hurts.

I'll elaborate.

Let's start with fitness. Anyone who knows my life and me over the last 8-9 years knows I've been all up in the fitness world. I drank the CrossFit Kool-Aid in 2009 and never looked back. I competed in 2010-2011 and even reached the pinnacle of Regionals in 2011. 2012-2015 I owned an affiliate and did some local competitions. I now work for Iron Tribe Fitness in Birmingham, AL.

A huge part of my identity has been tied up in being the fittest guy in the room for quite awhile. Now, in fairness, I'm not the fittest guy in the room in some rooms but in others I am. Heck, my wife and I met at a CrossFit gym in Noblesville, Indiana. Intensity is my middle name. Get the picture?

Over the last several months, things have changed. I was recently diagnosed with ulcers and told, not to stop working out, but to take it a bit easier in life in general. During this time, I have seen a dramatic drop in strength (for me at least) and then 2 weeks ago, I injured my shoulder again.

My doctor said to me this week, "Listen, I think at some point you have to accept the fact that you are getting older and there are some things that maybe you need to think about. Like risk and reward kind of thinking. Sure, you can keep pushing the levels but at what cost?"

I had to take a step back mentally and ask myself some hard questions. I don't have to stop working out but I need to be a little smarter about the volume at which I train. I mean, let's be real, I'm not a competitive athlete anymore. And that's when it hit me.

If I'm not training and performing at that level, who am I? I had a real struggle of identity for a minute…actually for a few days.

Let me bring it a little closer. I left my law enforcement career to follow what my wife and I truly believed was the call of God to go into vocational ministry. We sacrificed a lot to go to seminary. Then we became real super Christians and went into church planting, following what we believed and our elders confirmed was a legitimate call on our lives.

And things fell apart. Went down in flames. And we were left holding the pieces and burnt ashes of dreams that got torn down and burnt up. And it hurt a lot. But we moved on.

Or so I thought.

We prayed for God's provision and He provided the job I now have. We are close to my family for the first time in many years and part of a really good church here. Things are seemingly beginning to settle down for us.

So why am I still struggling with these issues of self worth and identity? This last Sunday our pastor preached on the High Priestly prayer from John 17 (we're in a series in John). The pastor talked about how we are in Christ and about our identity. I don't remember the exact words the pastor used but he said something along the lines of identity and being in Christ and our identity being found in Him alone and man, the Spirit pricked me. It was like He said, "Your identity is found in everything around me but not me." That hurt.

Then yesterday I was having a conversation with a pastor friend of mine in Indy and he talked about how gracious God has been to me in this time; by giving me a job that has provided for my family financially, by allowing us to live closer to my parents in the their retirement, by blessing us with yet another healthy child…and I was pricked again by the Spirit. It was like He said, "See, I have been gracious to you. Am I not enough?"

Then I read an article yesterday by Jared Wilson in which he talked about leaving ministry and the idolatry that being in ministry had been for him. Jared made the statement that along the lines of 'if God takes something away from you and it causes an identity crisis, it's an idol.' And it hit me like a truck.

My idol was me and my desires.

Sure, they were good desires. It is a good and Christ honoring thing to plant churches and preach the Word and share the gospel with others.

Unless it becomes an idol.

At the heart of our deepest desire, if we're not careful, we find idolatry.

If our deepest desire isn't Christ and who He is, then our desire is not for him but for ourselves.

I had taken a very good desire to serve Christ and His Church and, in my flesh, twisted it into my own identity. Who was I without being a pastor and church planter? Who was I if I wasn't doing what I believed God called me to?

But then the Spirit comes, reminding me that my very identity is Christ. My existence is now Christ and Him crucified.

I find myself comforted by the fact that many of the heroes of the Bible were idolatrous in some way. Yet God used them. Why? Why would God use idolatrous and sinful people?

Because they're not the point. I'm not the point. You're not the point. The goal is not to

be

the savior but to

model

the Saviour.

Christ is the point.

God used all those idolatrous and sinful people and He still uses sinful and idolatrous people like me because Christ is the point. He gets the glory.

And how does He work for His glory and my good? By conforming me to His image (see Romans

8:29

).

​And what is His image, what are we to be like?

"Have this mind among yourselves, which is yours in Christ Jesus, who, though he was in the form of God, did not count equality with God a thing to be grasped, but emptied himself, by taking on the form of a servant, being born in the likeness of men. And being found in human form, he humbled himself by becoming obedient to the point of death, even death on a cross." – Philippians 2:6

Humility.

Emptying ourselves.

Taking on the form of a servant.

​Becoming obedient.

If Jesus' identity is found in who the Father says He is, how much more is my identity found in who the Father says I am.

He calls me son.

That is enough.

Soli Deo Gloria!
Powered by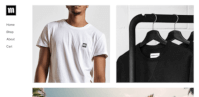 Create your own unique website with customizable templates.