I denied Jesus yesterday.
I didn't, like, stand up in public with a microphone and say, "Jesus isn't real," or anything like that. I didn't post about my denial on Facebook, 'cause we all know it's not official until it's FB official. Am I right?

But I denied him.

Right to his face.

I told him that I regretted following him, that my life was a lot easier before I followed him, that things made way more sense and there was way less pain before he found me and I heard his call and followed him. I told him, using not nice words, that my whole life for the last 7 years or so had been pain on top of pain. Strangely enough, he didn't strike me dead.

Pain makes us do some weird things, I'm learning. I've heard it said that we see our true character come out during hard times. I don't know if I agree with that completely 'cause pain can make you do things that you ordinarily may not ever do. Fear can do that also.

The Apostle Peter, before he was known as the Apostle Peter, knew this to be true also. Mark's gospel records it for us this way,
"And as Peter was below in the courtyard, one of the servant girls of the high priest came, and seeing Peter warming himself, she looked at him and said, "You also were with the Nazarene, Jesus." But he denied it, saying, "I neither know nor understand what you mean." And he went out into the gateway and the rooster crowed. And the servant girl saw him and began again to say to the bystanders, "This man is one of them." But again he denied it. And after a little while the bystanders again said to Peter, "Certainly you are one of them, for you are a Galilean." But he began to invoke a curse on himself and to swear, "I do not know this man of whom you speak." And immediately the rooster crowed a second time. And Peter remembered how Jesus had said to him, "Before the rooster crows twice, you will deny me three times." And he broke down and wept." (Mark 14:66-72)

Before we go all judgmental on our brother Peter, let's put ourselves in his position for a second. Everything he had come to believe in was disintegrating right before his eyes. The one he had proclaimed as Lord and Christ, the Son of God, was being beaten and mocked before his very eyes. His very identity was being beaten to death. His whole world was coming apart in front of his eyes and he was powerless to stop it.

Don't be too hard on Peter. He was afraid. He was in pain.

What would you do?
What would you do if all you had come to believe was blown apart in front of your face, if the one you said was God and Lord and Christ seemed powerless to stop what was happening, if your very identity had been taken from you and stripped naked and beaten before your eyes, if your whole world was coming apart and you were powerless to stop it?

What would you do?

I'll tell you what I've done recently, what I did yesterday. I denied Jesus. Just like Peter, I turned my back on him. Oh I didn't deny him in front of people. Only he could hear me say what I said to him. Only he heard me say, "I wish I'd never followed you."

And then this morning I was walking my daughter to school. She has yelled at her sister. Here's how the conversation went:
Me: "You yelled at your sister this morning. I know you did that because you've heard me yell at you. I'm sorry that I yelled at you and now you think that's okay. Don't be like me. It's not okay to yell. We need to be kind to each other, like Jesus. I need you to help me. Will you remind me to be kind?"
Her: "I forgive you, Daddy. I'll help you."

And I began to cry.

In that moment, my daughter showed me the love of my Saviour. She forgave me and said she would help me. That's what Jesus does when we repent. That's what Jesus does when we bring our brokenness to him and say ugly things to him and deny him. He says, "I forgive you. I'll help you."

Your pain is real. Your fear is real.
So is mine.

But we have a loving Saviour and Friend, who is Jesus Christ our Lord, who forgives us just like he did Peter. I hope this encourages you today, friend, wherever you are and whatever you are going through. Even when we turn our backs on Jesus, he doesn't turn his back on us. He will forgive you. He will help you.
​
That's called grace.

Soli Deo Gloria!


The pain is real.

The body of Christ is full of broken bones, sprained joints and hearts that are barely beating.
I want you to know, if you're a pastor or priest or deacon or bishop in Christ's Church, that I know your pain. And I want those who are a part of the body, the members of the Church, to know that your pastor, priest, deacon or bishop is in pain.
Real pain.

I am struck, when I read the Bible, of the amount of pain that is there. In the Old Testament, under the old covenant, the people of Israel were being shaped, made into the image of their Creator. And it was painful. Just go read the OT. It feels like a long sad story of getting a continual beat-down. God promised Abraham a people, but He also promised Abraham that those people would suffer. He also promised that the suffering of His people would not be in vain because He said He would rescue them, save them for His own glory, so that they would be a witness and a blessing to the world.

And along the way there was pain. God's chosen people suffered in slavery to the Egyptians. It wasn't their fault. Don't get me wrong, they weren't perfect. They were sinners just like you and me. Moses, their great deliverer, was a murderer among other problems he had. But God never forgot them, despite the pain they went through and despite how long it took God to act on their behalf.

God never forgot them.

Hang on to that for a minute.

I think it's interesting to note, in Exodus 13, that God showed Himself in some ways to the people of Israel. I think those are relevant to us today. Read Exodus 13:17-22. I want us to see some things here. I want us to see that:
1. God is always guiding His people.
2. God is always faithful to His people.
3. God is always present with His people.

It's funny in a not LOL way that, when the people left Egypt after being set free, God led them the long way. Read the text. God took them the long route.
Why would He do that?

Because sometimes the long way is the only way. Because there is more to life than getting from point A to point B. God had something to show His people and, for them to learn it effectively, they had to go the long way. They had to go the long way so that they would learn to depend on God in the midst of their suffering, so that they would see their need for a Saviour. Granted, they didn't learn this lesson well. But we can learn by their story. So if you're going through something right now that feels long, don't hate the dry and barren place. God has something to teach you by taking the long way. So even as you journey in whatever desert you're in, know that God is always guiding His people.

God is also always faithful. Now, I gotta be honest. I don't feel this way sometimes. My family and I are going through something right now that is so hard and painful that I don't even know how to put it into words. At times, the pain is more than we can take. My wife and I have cried with and to each other and cried out to God a lot recently. Sometimes I feel like God isn't very faithful. But then I read texts like this and pretty much all of Psalms and I'm reminded.
It's okay to cry out in your pain. But even as you cry out, never forget that God is faithful.

God is always present with His people. We probably won't get a pillar of fire and cloud to show us that God is always present with us. But we have an even greater hope. Jesus promised us that, when He went away, He would send another Helper.
The Comforter.

Maybe you're like me right now. Maybe you need comfort during your pain. This may not sound super helpful to you right now but if you'll just sit in this place for awhile, God will rescue you. I want to be clear; He may not take this away from you. What you're going through may be good for you in the long run because you and I need to recognize our need for a Saviour.

Remember, there is more to life than getting from point A to point B.

But God is always guiding His people. He is always faithful and He is always present.

The Bible is our proof of this. We know the rest of the story, don't we? We know where this all ends. We know the One who came, God in the flesh, Jesus Christ, the Son of God. He has taken all the pain on Himself. He has taken all your sin and my sin. He knows your pain and mine.

So I want you to know that I know your pain is real. The body of Christ is made up of broken and sinful people who sin and hurt each other. But know that Jesus loves you and He will save you. It may not be today or tomorrow but one day, all that pain and confusion and hurt will dissolve in the light of the joy of the presence of the risen Christ.

In this world we will have trouble. But take heart, friends. Jesus has overcome the world.

Soli Deo Gloria!

Powered by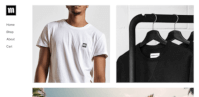 Create your own unique website with customizable templates.