Do you ever wonder if Jesus felt a little bit like a fool?

I know that question just ruffled a whole bunch of religious feathers. Some of you reading this just had a very visceral response to that question. And that's probably a good thing.

But this is a serious question that I'm asking. Do you ever wonder if Jesus felt a little bit like a fool? Ever wonder if he thought that this whole thing of preaching to an unresponsive people, having the crap kicked out of him, suffering and dying wasn't really worth it for the pay off?

Now, if we're biblical Christians, we know the spiritual answer to this, right? In his divinity, Jesus knew precisely the reason he had come, he knew what he would suffer, he knew that he would be mocked and scorned and beaten and killed. He knew. And he did it anyway.

But in his humanity, you have to wonder if, at some point, he was like, "What am I doing? Why am I doing this? This isn't what I signed up for! Am I a fool for doing this?"
Maybe you don't wonder about those things but I do.

With all that has happened with me and my family over the last few months, I've felt this way at times. The anger is gone (well, mostly) by the grace of God and the help of a good and godly counselor. But the questions remain. And I don't think there are any easy answers.
Most recently, as I've been frantically job searching, I've been dealing with a lot of these questions and feelings; questions like, "Was I a fool to leave security behind to follow Jesus on this path?"
If I'm being honest, I feel a little bit like a fool. I had a really secure job and was on the down hill slope of what had been a good career. I had served my community and, through that, my country for many faithful years. Sure, there were things about being a police officer that sucked but overall, it is an honorable, courageous and mostly thankless calling. I still have many friends, brothers, sisters and colleagues that lay their lives on the line every day. I miss those friends. There is something about risking your life together that binds you to each other; it is a tie not swiftly broken.

So this is a hard question and place for me. Was I foolish? Have I risked the safety and well being of my wife and family for nothing except heartache and pain?

Maybe you're in the same boat as me right now. Maybe you're asking yourself some hard questions. Maybe the enemy is twisting things to deceive you and, even though you know that it's not true, you feel that there are no easy answers and you don't know where to go.

May I take this opportunity to tell you something? Despite what these false teachers out there will tell you, life is not always going to go swell for you if you follow Jesus. You may not have health and wealth and prosperity. In fact, the overwhelming majority of the New Testament speaks to the suffering that will come your way if you follow Jesus. Don't believe me? Let me explain.

I'm reading through the Gospel of Matthew right now. Here's where I am right now.
"You will be hated by all because of My name, but it is the one who has endured to the end who will be saved…A disciple is not above his teacher, nor a slave above his master. It is enough for the disciple that he become like his teacher, and the slave like his master. If they have called the head of the house Beelzebul, how much more will they malign the members of his household!...So do not fear; you are more valuable than many sparrows…He who loves father or mother more than Me is not worthy of Me; and he who loves son or daughter more than Me is not worthy of Me. And he who does not take his cross and follow after Me is not worthy of Me. He who has found his life will lose it, and he who has lost his life for My sake will find it."
This is Matthew 10:22, 24-25, 31, 37-39 (NASB)

This seems pretty clear to me and I hope will be an encouragement to you as well. Jesus made no bones about what life as his disciple would be. If we are his disciples, we will be hated, we will know fear and we will have to give up all that we hold dear, take up our cross and follow after him.

But why, we ask ourselves? Why does it have to be this way?

Because a disciple is not above his teacher, nor a slave above his master.

But it is enough that we become like the Teacher and enough that we become like the Master. Endure, brothers and sisters. Hold fast to Jesus, for he is holding fast to you! Don't be afraid (I struggle with this) but take up your cross and follow Jesus.

One day we will see Jesus face to face!
​
On that day, neither you nor I will regret following him for then we shall have our reward; we shall see him as he is!

Soli Deo Gloria!


It was moment frozen in time for me.
A night that will forever be burned into my soul.

We all have seminal moments in our lives and this was one for me.

I don't remember the exact date but it was a cold January night. Let me back up a sec.

I was a police officer for 16 years. Of those years, I spent 13 of those years at what I will call "the tip of the spear." I'll explain.

I was a SWAT officer for 10 years and an undercover narcotics detective for a bit over 3 years. Me and those like me, men and women, who served their cities with honor and bravery did and saw a lot of things that changed us.

Some for the better. Some for the worse.

But we were out there, doing our job. Sometimes, actually often, in very dangerous circumstances. We were in the darkness to fight against the darkness. We saw evil up close and personal. We saw violence and chaos. We visited violence on those who would harm us or those we loved or those we served. We were the first ones through the door in a gunfight and we were the ones living undercover in an evil and dark and hard world.

But this night was different for me. For all us on my team. This night would change us forever. Without going into all the details, we were called to do our job; to go after a man who had armed himself, living out his demented fantasies of demons coming to get him and "dark angels" who would come for him.

We answered the call. He ambushed the team as we came through the door. Three of my brothers went down in a blaze of gunfire. But they kept fighting. Because that's what we did. We survived and we won. Evil could not be allowed to win. So we trained to win. And this night, our training worked. We won.

At great cost.

Three officers badly wounded, two of whom would never wear a badge again.

The man we went after killed in the exchange of gunfire, a family grieved.

A community served and kept safe.

I'll never forget the feeling of holding my friend, my brother as he bled almost to death in my arms as we carried him to a car to evacuate him. I'll never forget his screams of pain. I'll never forget the blood soaked clothes I kept for years because I never wanted to forget. What I didn't know was that the uniform didn't matter. That night is burned into my soul and heart forever.

I love those men and women I served with. They were brave and honourable men and women doing a thankless job for very little money. The thing about being at the tip of the spear is this; the tip of the spear is the first to encounter the enemy, to be bloodied.

I have often been asked if I miss the job. The answer to that is no I don't. I don't miss the long nights away from home. I don't miss the hard job with basically no pay. I don't miss dealing with all the scum of society.

But that's not entirely true.
I miss serving alongside those who are willing to give their lives for what they believe in, for each other, for something greater than themselves. I miss the feeling that you were doing something with your life that would have lasting impact.
I miss being the tip of the spear.


​

Now my desire isn't for gunfights and chasing after drug dealers. By God's grace and His sovereign saving grace, I am not the man I once was. But my desires haven't changed really; only been purified by the Word and Spirit of God.

I wonder if this is a little of how Paul felt. We see in Acts and his epistles Paul taking the light of the gospel of Jesus into the darkness. And he incurred wounds, betrayal and great personal cost. Read 2 Corinthians 11:21-33 as an example. Paul and his brothers were traveling all over the Roman world taking the light of the gospel into the darkest places at great peril to themselves.

The tip of the spear.

If I'm being real, I have to admit something.

I miss it. I miss knowing that my life counts for something greater than myself.

I want to be at the tip of the spear again

. But not like before.

I don't want gunfights and high speed pursuits.

I want incursions into the spiritual darkness. I want to be the first through the proverbial door of lostness. I want to take the gospel where the name of Jesus isn't known, where it's not cool culturally to be "Christian." I'm not seeking martyrdom.

I don't want to die.

I want to serve.

I want to be used up in the proclamation of the gospel to those who don't think it's cool to be Christian. And I may have to hold the bleeding bodies of my brothers and sisters and they may have to patch my wounds as well.

But the cost is worth the prize!

I want to live in the service of my King alongside brothers and sisters to take the good news of Jesus to those who don't know Him. I want to be like Paul, living in the service of One who is greater, counting myself as nothing and His tool to be used to bring His kingdom here on earth as it is in heaven!

​

Here's how Paul puts it in Philippians 3:8-14:

"Indeed, I count everything as loss because of the surpassing worth of knowing Christ Jesus my Lord. For his sake I have suffered the loss of all things and count them as rubbish, in order that I may gain Christ and be found in him, not having a righteousness of my own that comes from the law, but that which comes through faith in Christ, the righteousness from God that depends on faith – that I may know him and the power of his resurrection, and may share in his sufferings, becoming like him in his death, that by any means possible I may attain the resurrection from the dead. Not that I have already obtained this or am already perfect, but I press on to make it my own, because Christ Jesus has made me his own. Brothers, I do not consider that I have made it my own. But one thing I do: forgetting what lies behind and straining forward to what lies ahead, I press on toward the goal for the prize of the upward call of God in Christ Jesus."

Tip of the spear.

Soli Deo Gloria!
Powered by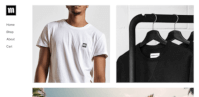 Create your own unique website with customizable templates.