Do you ever wonder if Jesus felt a little bit like a fool?

I know that question just ruffled a whole bunch of religious feathers. Some of you reading this just had a very visceral response to that question. And that's probably a good thing.

But this is a serious question that I'm asking. Do you ever wonder if Jesus felt a little bit like a fool? Ever wonder if he thought that this whole thing of preaching to an unresponsive people, having the crap kicked out of him, suffering and dying wasn't really worth it for the pay off?

Now, if we're biblical Christians, we know the spiritual answer to this, right? In his divinity, Jesus knew precisely the reason he had come, he knew what he would suffer, he knew that he would be mocked and scorned and beaten and killed. He knew. And he did it anyway.

But in his humanity, you have to wonder if, at some point, he was like, "What am I doing? Why am I doing this? This isn't what I signed up for! Am I a fool for doing this?"
Maybe you don't wonder about those things but I do.

With all that has happened with me and my family over the last few months, I've felt this way at times. The anger is gone (well, mostly) by the grace of God and the help of a good and godly counselor. But the questions remain. And I don't think there are any easy answers.
Most recently, as I've been frantically job searching, I've been dealing with a lot of these questions and feelings; questions like, "Was I a fool to leave security behind to follow Jesus on this path?"
If I'm being honest, I feel a little bit like a fool. I had a really secure job and was on the down hill slope of what had been a good career. I had served my community and, through that, my country for many faithful years. Sure, there were things about being a police officer that sucked but overall, it is an honorable, courageous and mostly thankless calling. I still have many friends, brothers, sisters and colleagues that lay their lives on the line every day. I miss those friends. There is something about risking your life together that binds you to each other; it is a tie not swiftly broken.

So this is a hard question and place for me. Was I foolish? Have I risked the safety and well being of my wife and family for nothing except heartache and pain?

Maybe you're in the same boat as me right now. Maybe you're asking yourself some hard questions. Maybe the enemy is twisting things to deceive you and, even though you know that it's not true, you feel that there are no easy answers and you don't know where to go.

May I take this opportunity to tell you something? Despite what these false teachers out there will tell you, life is not always going to go swell for you if you follow Jesus. You may not have health and wealth and prosperity. In fact, the overwhelming majority of the New Testament speaks to the suffering that will come your way if you follow Jesus. Don't believe me? Let me explain.

I'm reading through the Gospel of Matthew right now. Here's where I am right now.
"You will be hated by all because of My name, but it is the one who has endured to the end who will be saved…A disciple is not above his teacher, nor a slave above his master. It is enough for the disciple that he become like his teacher, and the slave like his master. If they have called the head of the house Beelzebul, how much more will they malign the members of his household!...So do not fear; you are more valuable than many sparrows…He who loves father or mother more than Me is not worthy of Me; and he who loves son or daughter more than Me is not worthy of Me. And he who does not take his cross and follow after Me is not worthy of Me. He who has found his life will lose it, and he who has lost his life for My sake will find it."
This is Matthew 10:22, 24-25, 31, 37-39 (NASB)

This seems pretty clear to me and I hope will be an encouragement to you as well. Jesus made no bones about what life as his disciple would be. If we are his disciples, we will be hated, we will know fear and we will have to give up all that we hold dear, take up our cross and follow after him.

But why, we ask ourselves? Why does it have to be this way?

Because a disciple is not above his teacher, nor a slave above his master.

But it is enough that we become like the Teacher and enough that we become like the Master. Endure, brothers and sisters. Hold fast to Jesus, for he is holding fast to you! Don't be afraid (I struggle with this) but take up your cross and follow Jesus.

One day we will see Jesus face to face!
​
On that day, neither you nor I will regret following him for then we shall have our reward; we shall see him as he is!

Soli Deo Gloria!


There are times in our lives that things aren't going the way we planned. At least for me and my family that has been the case for a few years now. After awhile of doing what you feel is the right thing and in obedience to the call of God on our lives, we expect certain things to happen. I mean, let's be honest here. Whether it's biblical or not (spoiler alert: it's not) we have a tendency to think that when we "do the right thing" then good things will come to us.

That's just simply not true. The entire testimony of Scripture, if we're paying attention, points us to the fact that obedience to God does not always equal earthly reward.

Can I just be honest with ya'll? I'm really struggling hard with this right now. I've been really wrestling with some bitterness toward God. I've said some unkind things to and about him. I've wondered, privately and publicly, why we feel like we've done the right things and things haven't worked out well for us.
You come to a place where you ask yourself:
What's the point?
Does any of the things that I've done in obedience and faith matter?

I'm here to tell you that it does. It matters what you do and how you do things in obedience to God and it matters how you treat people along the way. I want to give you an example of something that happened recently in my family's life.

Once upon a time, my wife and I owned a CrossFit gym…a "box" as we call it in our CrossFit cultish world. We owned and operated the gym while I was in seminary in Wake Forest, North Carolina. We worked harder and more hours than I care to remember. It was a really hard time in our lives. We got up way before sunrise, coached and trained all day, sweated and cheered our clients on and then I'd go home and do homework and get like four hours of sleep and get up and do it all over again the next day.

It was incredibly hard.
And incredibly rewarding.

We had more community and friendship with those folks than we have ever had before or since. Our clients were some of our closest friends. As an aside, it makes me sad that the Church doesn't serve this function as often as it should. Most churches don't do this very well at all. Anyways…

I told my wife the other day that our time owning that gym was the only time in my life when I felt like I was actually making a difference in people's lives. Despite all those years as a police officer and even time as a pastor and it was the gym that felt like we were actually changing people's lives.
Fast forward three years. It's been a hard three years. Disappointment after disappointment has come about, what has seemed like failure and after failure, pain and tears and lots of questions like:
What's the point? Does anything I'm doing matter?

And then the other day I got a gift in the mail. It was from a former client and friend from our gym in NC who shall remain nameless. This person had been observing from a distance our struggles over the last three years and so they sent a gift. It was to encourage me/us and to let us know what a difference we had made in their life during their time with us at the gym.

Can I just tell you how wonderful that felt? To know that we had made a real and tangible difference in someone's life was precisely the encouragement I needed in that moment. So I want to pass along to you the encouragement I received. I want you to not be discouraged. Those little things you do for others are not in vain and they are not unnoticed. Jesus talked about this in Matthew 25:40 when he says,
"The King will answer and say to them, "Truly I say to you, to the extent that you did it to one of these brothers of Mine, even the least of them, you did it to Me."" (NASB)
​
Be encouraged today, brothers and sisters, your work is not in vain. You are making a difference. Your Master is watching and he is pleased.

Soli Deo Gloria!

Powered by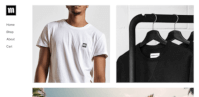 Create your own unique website with customizable templates.